With the new Microsoft Edge now available as a stable release, what does it mean for enterprise devices and management? In this post, we'll take a look at what the new Microsoft Edge means for you and how best to deal with it.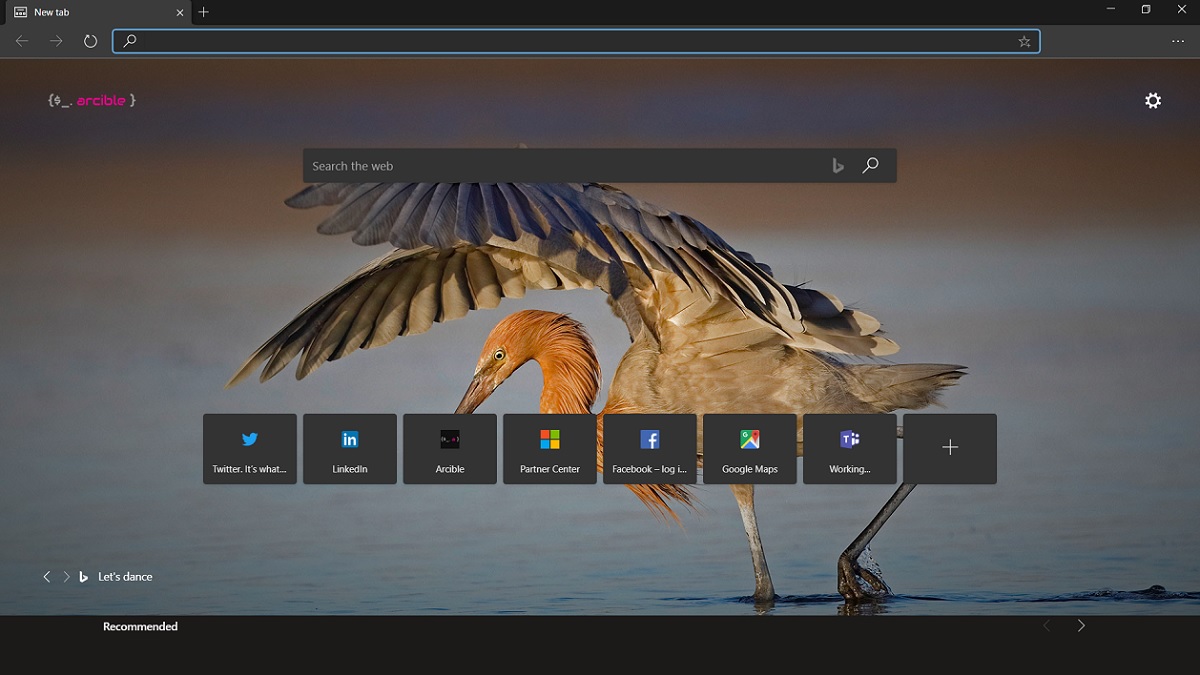 Earlier this month, Microsoft made the new Microsoft Edge Stable release of its new, Chromium engine based, Microsoft Edge browser available. We've been using this new browser, at Arcible, in its early forms for quite a while now and with the stable release now available, that means it's ready for adoption by end-users.
So what is this new Microsoft Edge browser?
Microsoft has included the Edge browser in Windows 10 since the first release. Since the dawn of Windows 10, Edge was based on Microsoft's own browser engine called EdgeHTML.
Edge was a great improvement over Internet Explorer, however, because Microsoft had to continue to include Internet Explorer in Windows 10 for compatibility and because of issues people had using the two browsers together, it wasn't quite the success it could have been.
Microsoft took the decision last year, to essentially abandon development of their own browser engine and instead, take a leaf from the open-source community and to build a new browser that was based on something already hugely successful and popular: Google Chrome.
Why wouldn't I just use Google Chrome?
That is a good question but there are a few things to consider. The first thing to consider is that if you install Google Chrome, that's another product you are installing and in essence, you are adding to the problem. The new Microsoft Edge stable browser replaces the existing Edge browser (more on this in a bit) which means you aren't just adding a third browser on top of existing Edge and Internet Explorer.
Next, Microsoft has done a great job of extending the functionality of the core Chromium browser engine to make Edge a great browser for enterprises. There are lots of features such as Azure AD Single-sign On support, great management features, tie in with Microsoft Intune with Application Management (MAM), and more.
How to install Microsoft Edge Stable
So if you want to install and use Microsoft Edge stable, you can simply head to the download link at https://go.microsoft.com/fwlink/?linkid=2069324&Channel=Stable&language=en. If you want to do a silent installation so that you can roll it out using Configuration Manager (SCCM or MEMCM) you can look at the documentation at https://docs.microsoft.com/en-us/configmgr/apps/deploy-use/deploy-edge. If your SCCM or MEMCM environment is up-to-date, there is a built-in option for creating a deployment package much as we can with Office 365 ProPlus inside the tools.
The important note before you begin, however, is this. If you install the Microsoft Edge Stable release, this overwrites and replaces the existing Microsoft Edge browser.
If you want to try out the new Microsoft Edge browser without replacing your existing Microsoft Edge browser then you will want to use one of the development builds including Canary, Dev, or Beta. These development builds sit side-by-side with the existing browser and you can even install Microsoft Edge Stable and one of the development builds side-by-side too if you want to see what's coming in future stable builds before your users do.
Managing Microsoft Edge Stable
If you are planning on installing and using Microsoft Edge Stable or any of the development builds, you might want to manage it centrally. Microsoft has released a great set of Group Policy Templates for this and there is a wealth of settings available. You can download these from https://www.microsoft.com/en-us/edge/business/download.
There are too many settings to go through one by one but some that we particularly like is the ability to have Office 365 documents and content exposed directly on the start page; the ability to have your company logo shown on this page; the option to enforce SafeSearch mode and set your preferred default search engine; configure Do Not Track mode centrally; and lastly the Internet Explorer Mode feature.
IE Mode is worth a look just on its own. With this feature, if you have sites that require Internet Explorer for compatibility reasons, instead of forcing the user to open a separate browser for IE, Edge creates a tab in IE Mode which uses IE to render and run the page but keeps the user within the Microsoft Edge browser experience.
What device is Microsoft Edge Stable available on?
This is where the new Microsoft Edge Stable just gets better and better. Not only is it available for Windows 10 and will replace the existing Microsoft Edge browser but it is also available for Windows 7 and 8.1, Windows Server 2008 R2 and above and also for macOS. You can now have a single browser, one that you can police and manage safely as IT, across all your devices.
With mobile, you can download and install Microsoft Edge for iOS and Android too. When the user signs in on their mobile device using the same account that they sign-in on a PC or Mac with, sync works great and allows the users to access all their favourites and history too.
Also for mobile, as a Microsoft app, Microsoft Edge is considered a Managed App for Microsoft Intune which means that we can use App Configuration Policies and App Protection Policies in Intune to ensure that the app is used safely, that our corporate data is safe, and that our users stay compliant.
For anyone using the Intune Managed Browser app today, this went end-of-life on the 27th January 2020 ( https://docs.microsoft.com/en-us/intune/fundamentals/whats-new) so it's a great time to replace it with Microsoft Edge on these devices to stay in support but also gain lots of new functionality.
Want to deploy the new Edge browser but not sure how?
If you want to move to the new Microsoft Edge browser but aren't sure how; if you've previously deployed the Intune Managed Browser app and want to move to Microsoft Edge; or want to start applying App Protection Policies and App Configuration Policies to protect your data on mobile devices, get in touch and we can help.
We can help you with identifying ways to verify your web applications will be compatible, help with getting to grips with IE Mode so that your users truly have one browser to rule them all, or we can help you make the most of Microsoft Intune to manage your mobile estate.
The new Microsoft Edge browser fits right in with our approaches to Cloud Productivity and Enterprise Mobility. Take a look at our solutions for these for more information.